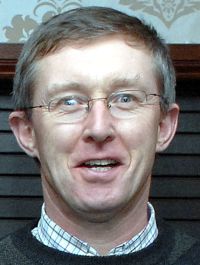 I am a priest in the Killaloe Diocese ministering in the parishes of Cross and Carrigaholt. In 2005 as part of my work here I was involved in giving retreats to Confirmation children. I then was introduced to Shekinah and I did the course in 2011 -2012 travelling from West Clare to Dublin on the required Saturdays and returned for Sunday duties.
Personally I found the course helpful and beneficial for my ministry in general. The emphasis on how to approach young people and what is important to them was very enlightening. I realised that it was important to be able to connect to the life experiences of young people and to their culture. The course offered many avenues into their culture through music, film and drama for example. We looked at youth culture through the lens of theology, faith development and developmental theorists such as Fowler, Piaget, and Erikson. Evangelisation and the gospel message, I found, only makes sense when it connects with their culture and experiences.
The course invited us to look at ways in which the gospel connects to young people of today. The emphasis of Shekinah in doing this is through teamwork. We worked in teams when giving the retreats and we took on different roles within the team for different retreats. I found all this very energising, challenging and worthwhile. This wasn't about preaching, teaching or imparting knowledge but more about sharing, experiencing and listening. This is what I liked about the Shekinah approach; one is always learning, growing and journeying in the process of Shekinah retreats. This approach benefited my whole ministry in the parishes I served.
As a result of doing Shekinah I've been involved in giving retreats for the past five to six years in the cluster which I have found very rewarding and is something I never imagined doing before my year in the Shekinah course.
The course gives a firm foundation and solid structure for engaging with young people. I think it's the way we need to be going forward because it's a fabulous experience for the young people – and yes its challenging at times.
When you look at the way the day is structured you have a short prayer to begin with, then you have different interactive engagements – whether it is fun and games or group work, then you have meditation and you end the day with a prayer which the young people prepare themselves – it is completely theirs and completely their agenda. So, I think when you have that as the basis on which the day hangs there is great scope to connect with young people, their culture and relate 'the good news' to their lives.
From my experience of doing the meditation with the young people I was able to introduce it in the parish during Lent and Advent and that has been very satisfactory. We have also been able to use PowerPoint for music during various liturgies which has added variety to liturgies – both Eucharistic and non-Eucharistic; this has enhanced the liturgical life of the parish enormously. This approach is very popular with young and older parishioners. We have done this for parishioners at exam time, for special November remembrance liturgies and healing liturgies.
Ministry as I see it is all about listening to people at the end of the day – it's all about engaging and connecting; you have to be at peoples level especially culturally and this was at the heart of the life and ministry of Jesus – that's where he was at – constantly going out, walking with people, going into their houses, listening to their stories and sharing with them and bringing his message into the mix of people's lives. That's what Shekinah is about – it's about engaging, listening to young people and making it their day.
So, I would wholeheartedly promote the Shekinah method of retreat facilitation and highly recommend the course to fellow clergy, youth ministers and anyone interested in working with young people.
Fr. Michael Casey
Parish Priest of Kilballyowen